The Hamilton market is showing some signs being impacted by Ontario's Fair Housing Plan, according to recently released statistics.
There were 1,638 residential home listings in August, up 6% year-over-year from 2016's mark of 1,546. Those listings are 4.2% higher than the 10-year average. Sales, meanwhile, were down 18.2% with a total of 1,086 last month.
That didn't stop price growth, though, with the median residential home selling for $485,450 – up 14% year-over-year from $426,000.
All of these stats together point to a balanced market, according to the Realtors Association of Hamilton-Burlington.
"The tendency toward a more balanced market that we have seen over the last few months has continued into August," RAHB CEO George O'Neill said. "The sales to new listings ratio is at just over 65 per cent, which is still in the low end of a seller's market, but much closer to balance than earlier this year."
The median freehold home price jumped 13.2% year-over-year and the median condo home price increased 20.9%.
"The median and average prices continued to rise," O'Neill said. "There had been speculation that with more listings on the market and fewer sales, prices would decrease as a result. That is not the experience in our market area – at least not so far."
The average days on market increased to 33 days from 27 days for freehold homes and to 29 days from 27 days for condos.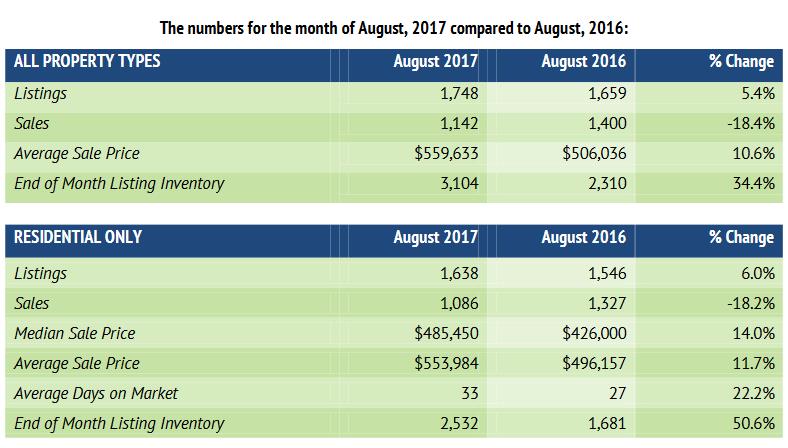 Source: RAHB
Related stories:
Victoria core's benchmark prices begin to decline
This market may soon attract an influx of potential renters
Are you looking to invest in property? If you like, we can get one of our mortgage experts to tell you exactly how much you can afford to borrow, which is the best mortgage for you or how much they could save you right now if you have an existing mortgage. Click here to get help choosing the best mortgage rate
Read more